catherine dudley's musical performance resume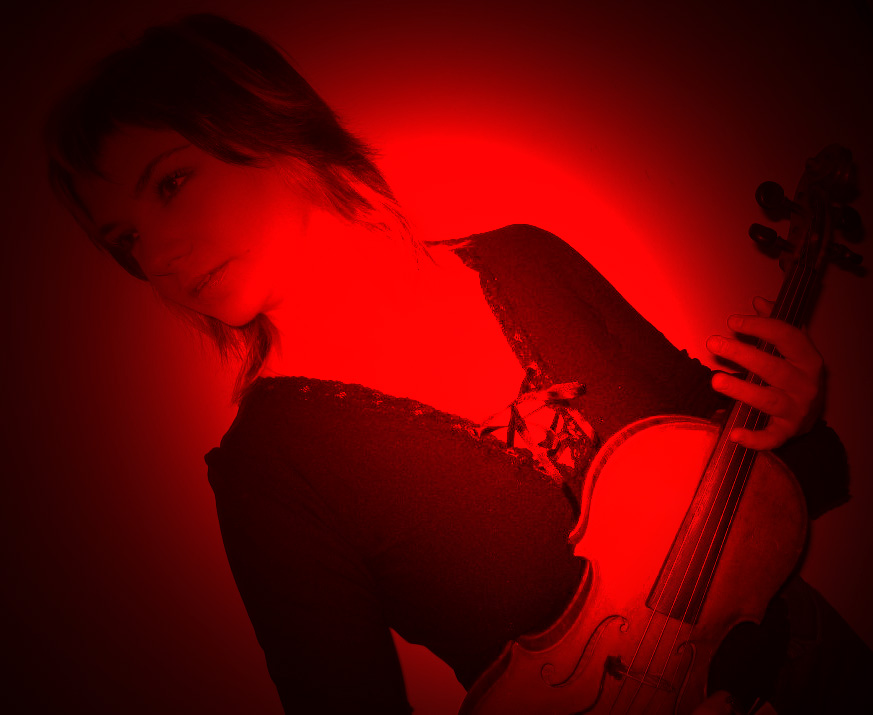 Catherine Dudley's sound has been heard around the globe in Russia, England, France, Finland, and Scotland, as a soloist and with others, as well as in downtown Manhattan venues such as Fez, the Knitting Factory, CBGB's gallery and the like. Here in NYC she has shared the stage with Danielle Howle, (opener for Dylan), Joey Ramone co-writer Al Maddy, and broadcast TV with Brandy and Diana Ross, to name a few. She has performed for Pope John Paul at the U.S.C. Stadium, and at a young age was chosen as the Southeastern solo performer for Tony
Randal. Though more focused today on alternative music, rock, jazz, and improvisation and how music melds with storylines via the stage or film, catherine has a lengthy background with orchestral performances. She has played at Calloway Gardens for President and Mrs. Carter, performed with Marvin Hamlish, and alongside stellar violinists David Kim, (Eighth ranked worldwide violinist), and Young Yuk Kim, (Stradivarius owner/violinist). David Kim is currently the concert master for the Philadelphia Symphony.
91.1 wfmu - with paul o'neil on r.stevie moore's 2 disk cd "report card"
Knitting Factory - with Joey Ramone co-writer Al Maddy.
Fez NYC - with Danielle Howle, opener for Bob Dylan
the Players Club - yearly awards ceremony for the BTI's Theatre Museum
CBGB's gallery with John Zonars, previous SNL music supervisor.
the Four Season's ballroom with Screaming Cocktail Hour!
Carolina Coliseum
Spoletto and more!
Additionally, catherine has provided music services for live performances with Brandy, Lauren Lake, Diana Ross, Timothy Dark (improvised live), Jessi Robertson, Daniel Shovan and more.

Scholarships and Awards
Recordings / Travels
Improvised and created tracks for MTV animated pilot Dracworld.
Improvised tracks for John Zonar's CD - (music coordinator of Saturday Night Live)
Violin samples used on R.Stevie Moore's 2cd set "Report Card",

w/Paul O'Neil (yes the baseball player!) on drums. Featured - WFMU.
Studio musician for Peter Millrose - Millrose Music - NYC.
Studio musician for Mother West, Lolex Productions, Abacus Audio, and the Quad Recording Studios - all in NYC.
Impromptu shows - Jessi Robertson, Timothy Dark, Lauren Lake, and more.
Unlimited work with independent bands and artists.
Diverse performances in the U.S. and performances in Russia, England, France, Finland, and Scotland.


Film / TV


Rear Window - Quartet Violinist - ABC TV.

Double Platinum - Band violinist - NBC TV.


Stage

International Theatre Festival in Woodstock, NY. Solo Carnival Musician and Narrator for "The Group", Russian play by Alexander Galin, in conference with Arthur Miller and other artists. Arranged and performed score.
Solo Performance piece "Breaking the String" through Playwright's Horizons -NYC - created and performed in collaboration with Jean Claude van Itallie ("America Hurrah", "The Serpent", co-founder of the Open Theatre w/ Joseph Chaiken.)
Improvised, created, and performed live music for "The Voice of the Prairie" at River Arts.
Authentic Highland tunes and scottishes - selected and performed for John Strasberg's production of "Miss Julie".

Violin added to New York Premiere of "Farther West" at the Judith Anderson - NYC.
Violin also added to "And the Tide Shall Cover the Earth", and "Across the Plains", honored by the American Alliance for Theatre and the Kennedy Center- NYC.

Training And Teaching Experience

Private teacher: Dr. Donald Portnoy, violinist for American Arts Trio,
permanent chair on The Koger Center For The Performing Arts, and guest conductor of Pittsburgh Symphony.

Previous teachers include Dr. John Bauer, and Fritz DeJonge.
Twelve years advanced private study. Playing for eighteen years. Presently, exploration through improvisation, jazz, blues, and rock and roll.

Violin Performance Major /Dean's List /- U.S.C. Master School of Music.
Ten plus years teaching experience, three within the University Music School.

Teach beginning piano, as well.

Acting / Acting Resume / Acting Services / Acting Samples / Acting Links
Writing / Writing Resume / Writing Services / Writing Samples / Writing Links
Music / Music Resume / Music Services / Music Samples / Music Links